Suriname: Why are Javanese foods such as soto and pecel so popular and accepted in Suriname?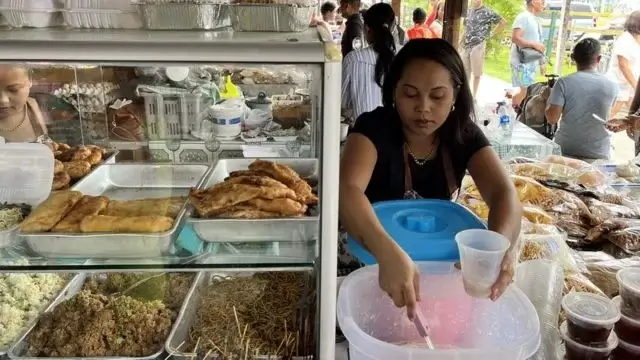 BBC NEWS INDONESIA
Sellers of fried rice, fried noodles, spring rolls, soto, and ice dawet at Saoenah Market, Paramaribo, Suriname. This market is also known as Java Market. Saoenah Market (sometimes written Saoena) in Paramaribo, Suriname, has another name: Java Market.
As the name implies, every Sunday the market becomes a meeting place for Javanese people who live in Paramaribo and its surroundings.
Apart from being a place to buy and sell and miss meeting, Saoenah Market is a mirror of the development of Javanese culture. On the one hand, culinary from Java is increasingly popular, while on the other hand Javanese is gradually fading, especially among young people.
I came to Saoenah Market when it was still early.
The market whose appearance is similar to traditional markets in Indonesia — complete with zinc-roofed los — is crowded with people preparing their merchandise on neatly arranged wooden tables.
While walking, I heard the strains of Javanese pop songs from the famous late singer Didi Kempot. Combined with the smell of food, the impression that Saoenah Market is a patch of Javanese earth is inevitable. In fact, geographically, this market is located about 18,000 kilometers from Java Island in Indonesia. KITLV The Javanese were brought to the Netherlands in the late 19th and early 20th centuries as contract workers on sugarcane plantations in Suriname. As the sun goes high, more and more visitors come from various cities as well as from several other countries such as Canada and the Netherlands. Most of them are people who still have relatives in Suriname.
Visitors are looking for Javanese food such as fried rice (iname it is more often referred to as rice, without fried frills), fried noodles (bami), pecel (petjel), stir-bring long beans, fried tripe, dried potatoes, chicken satay, chicken soto (popular name is saotoajam), fried chicken, grilled chicken, and various chili sauce.
Saoto can be said to be iconic. Famous everywhere. This dish consists of chicken broth, shredded chicken meat, bean sprouts, vermicelli, fried onions, and hard-boiled eggs. Very similar to chicken soto, but with a clearer sauce.BBC NEWS INDONESIA The impression that Saoenah Market is a patch of Javanese earth in Suriname is inevitable. If you are looking for snacks, there are rolled omelette, egg nuts, onion beans, rempeyek, and various chips. Thirsty? Don't worry, there is cendol ice which in Suriname is better known as dawet.
"It's nice for me to sell here. I sell rice, bami, tripe, fried chicken wings, saoto," said Eijke, a resident of Paramaribo, to BBC News Indonesia journalist, Mohamad Susilo.
Together with her husband, Eijke has been selling at Saoenah Market for 10 years.
Not far from Eijke's stall, there are Marijke and her son Gary who sell chili sauce, crackers, rempeyek, and chips.
"I wis suwe dodolan neng kene… (I have been selling here for a long time)," said Marijke in Javanese ngoko.
Ngoko is the lowest level of language in Javanese that is used to talk to people who are already familiar, with people who are lower in position, or with younger people.
Most Javanese in Suriname use Javanese ngoko.BBC NEWS INDONESIA Marijke and her son Gary, sell dry food and ice cendol at Saoenah Market, Paramaribo, Suriname. "Even though the price of the goods here is rising, my sales [remain] selling well," he continued. The merchandise table is full of nuts and various types of chips wrapped in plastic bags. The conversation was stopped by visitors who bought cassava chips.
Behind him, his other children sell spring rolls, rolled omelette, long bean stir-fry, fried rice, fried noodles, and pecel.
Next to him, Gary was busy pouring shards of ice cubes into a light blue plastic box filled with cendol. "Dawet, mas. Dawet pandan," Gary said.
Among the buyers of dawet or cendol, there is Satish, who comes with his wife.BBC NEWS INDONESIA BBC News Indonesia journalist, Mohamad Susilo, tasted rice (fried rice), chicken satay, and long bean stir fry at Saoenah Market, Paramaribo. "Fresh, sweet, delicious … the taste is different from other drinks. In our community there are no drinks like this. The food in the Javanese community tastes delicious. This Dawet is one of our favorites," said Satish.
"In addition to dawet, we also often buy telo (ketela) and fried bananas. Also chicken satay," he said.
Satish and his wife are regular visitors to Saoenah Market. Of course there are new visitors, such as Shakirah and Ezra.
Shakira, who recently lived in Paramaribo, was told by her friends about Javanese food which is said to be legendary.
On that Sunday he invited his friend from the Netherlands, Ezra.
"Friends say Javanese food is spectacular. I've only been here a few times and today I want to taste Javanese food again. I want to buy a rolled omelet," Shakira said.BBC NEWS INDONESIA Fried rice and chicken satay, two of the many Javanese foods that continue to be popular in Suriname. In this market, omelette rolls are indeed much sought after. It seems that people like a mixture of flour omelette, grated coconut and Javanese sugar.
Ezra said curiosity pushed him into this market. 'It's tempting,' Ezra said.
Soon Shakira and Ezra looked for a comfortable place in one corner of the market. In their hands were several packages of food. They bought fried rice, fried noodles, dried tempeh, chicken satay, rolled omelette, chili sauce, and cendol ice.
"I really like … there is a spicy, salty, sweet taste. Spectacular. The texture is also diverse. It's really delicious," Shakira said.
Ezra meanwhile enjoys spring rolls and chicken satay. "The lump is delicious. The vegetable contents are fresh. I also like cendol ice," said Ezra.
Soedi, who has been selling food for 20 years, said the taste of Javanese food is very distinctive, with intense spices, making many people like it.
"My customers are not only from Suriname, but also other countries like the Netherlands. They often buy food here," Soedi said.BBC NEWS INDONESIA Ezra and Shakira enjoy Javanese food, such as rolled omelette, spring rolls, fried rice, and cendol ice at Saoenah Market, Paramaribo. The market is a place to bind family
Saoneh Market does not only provide various Javanese food. The market is also a meeting point for families and relatives across countries, especially for those living in the Netherlands, such as Edgar Moekiran and Rubinem.
'I still have a lot of families and friends here,' Edgar said. For him, Saoenah Market is an ideal meeting place: meeting relatives and friends while enjoying various Javanese food.
Rubinem this time came to Paramaribo to celebrate his brother's birthday, Legiman.
Legiman and his children sell vegetables and fruits at Saoenah Market.
Thousands of Javanese moved to the Netherlands after Suriname's independence in 1975. The move of the Javanese was caused by fears that the release of Suriname from the Netherlands would trigger social unrest.
Saoenah Market is also a cross-generational meeting point. There are many third and fourth descendants of the Javanese who used to be brought by the Dutch. They are united by a cultural element called culinary.
The difference is, the third generation is mostly still fluent in Javanese ngoko, while their children often use Dutch and colloquial in Suriname, Sranan Tongo.BBC NEWS INDONESIA Saoenah Market is also a meeting place for various communities in Suriname. They are united by the desire to enjoy Javanese food. Rata-rata they understand Javanese speech but have difficulty speaking this language.
Indeed, Javanese food and language have different fates in Suriname. One is very popular, while the other is increasingly used by children and young people.
"The only cultural expression or tradition that continues to evolve and influence is culinary," said Rosemarijn Hoefte, researcher at the Institute for Southeast Asian and Caribbean Studies (KITLV), in Leiden, Netherlands, in a conversation with Mohamad Susilo.
"Many restaurants and stalls [in Suriname]. Every party, whether by Javanese or non-Javanese, provides Javanese food. Javanese cuisine lives and continues to grow," said Hoefte who is also a professor of Suriname history at the University of Amsterdam.KITLV The Javanese were brought in by the Dutch colonial government from 1890 to 1939. During this period, the number of Javanese who entered Suriname was around 33,000 people. Food is the only element of Javanese cultural heritage that is still preserved today in Suriname, Hoefte said.
He explained in general, Javanese foods have not changed, although there are small adjustments, characterized by the use of local spices and ingredients. For example soto, which in Suriname is known as saoto. The sauce is clearer.
Then chili sauce. Suriname-style Javanese sambal uses chilies known as Madame Jeanette and Adjuma, which taste much spicier, than sambal in Java, which usually uses red chili, green chili, or cayenne pepper.
Javanese food is very popular and has been adopted by non-Javanese communities in Suriname, such as Afro-Suriname and Indo-Suriname. When they host events, menus such as rice and fried noodles are often served.BBC NEWS INDONESIA Various chips and rempeyek which are also popular in Suriname. The sustainability of Javanese food, among others, was driven by conditions when the Javanese people came to Suriname starting in 1890. Hoefte said that the Javanese people were geographically isolated from other ethnic groups that had arrived.
They live on plantations and although there are workers of other ethnicities, for example people from India or Africa, there is a separation based on ethnicity in large plantations.
"This allows the Javanese people to maintain the tradition [because it is not influenced by the traditions of other ethnicities]," explained Hoefte.
An isolated life and also Njowo's desire to mulih (return to Java) make cultural expression – including culinary – an escape.BBC NEWS INDONESIA Petjel (pecel) and chicken satay are easy to find in Paramaribo, Suriname. And until the next generations, Javanese food has been inherited until now.
Its existence is sustainable and has been accepted by other ethnic groups in Suriname, as also seen in Saoenah Market.
Besides Saoenah Market, there is still one place in Paramaribo which is also known as the Javanese food center. It is located in Blauwgrond, about half an hour by car from the city center.
In this place, on the right and left of the road there are many restaurants that provide Javanese food. Like in Saoenah Market, the visitors are diverse, not only Javanese.
Blauwgrond, Saoenah Market, and stalls that are easy to find in Paramaribo — both permanent and sold by roadside vehicles — witness to the glory of Javanese food in Suriname.